some projects
27/4 - 5/5 1983:
RESTING-PLACE FOR A MEGADEAD*
*(The term "megadead" was used by the American Congress in discussions about an eventually nuclear war)

.
This project, made in cooperation with the group "Artists in resistance" took place in the Mozes en Aaronkerk in Amsterdam.
It was dedicated to the victims of future wars. In the week preceding the national memoration of the deads in Worldwar 2,
One million crosses were drawn on a banner of 450 meters by about 500 visitors of the church.
It became a very colourfull banner, in whitch the crosses were used as gridpoints to give form to texts and images.
During the week many poets and musicians (pop, classical and jazz) played for free in the church.
This banner (till then the biggest ever made) was hung in the Vondelpark on the 5th of may (liberation-day).
On june 18th it hung round the building of the Vrije Universiteit in Amsterdam by occasion of a congress of medicins against nuclear weapons.
From 22 till 26 june it was hanging on one of the bridges over the river Moldava in Prague.
The last time it was used was during the great demonstration against nuclear war in the Hague.
About this project an exhibition was made, that was to be seen on several places in Holland, a.o. in the Technical University in Delft. (photographs: Ine ophof)

1985
THE COMBO
MUSIC-MACHINE




A musical machine, build in 11 parts: One control-unit and ten instruments.
The control-unit was "old-time electric" with a battery of relais
and was made after the famous Amsterdam organ-grinder tradition.
(photo's: Ine Ophof)














Mural train-viaduct Javastraat/Celebesstraat, Amsterdam
june 1990

collectively designed by Ine Ophof and me.




1993-1995
ZAPP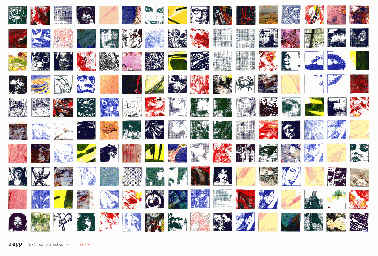 ZAPP is a series of 5280 paper squares of 5x5cm pasted on 33 leaves of paper of 70x100 cm.
In the beginning these squares were made in different techniques but later on only computerprints were used.
The idea was the amazement about the enormous amount of images we have to digest.
No period in history was so full of images as our own. What do we do with it ?


Slideshow of all the Zapp works
LIBRARY OF UNWRITTEN BOOKS
may 2000

132 unwritten books in 10 paper boxes. (Computer-printed) This project was showed during the
4th TRANSINDUSTRIAL MANIFESTATION in Amsterdam.

click here