COMBO
MUSIC-MACHINE
the instruments

Click here to hear or download a recording of the Combo on Internet Archive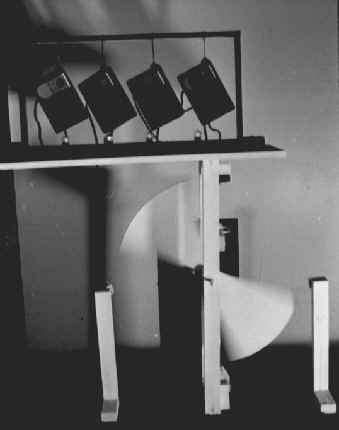 RADIOWHEEL:
a turning piece of wood hits switches that turn
4 little radio's, tuned on different stations, on and off.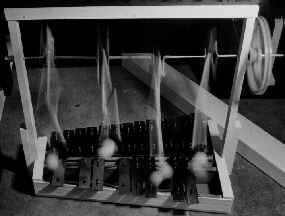 XYLOPHONE:
with dancing table-tennis-balls

PAPERFEED MUSIC-BOX: with an endless "book"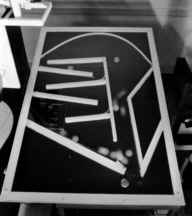 PIN-BALL BOX: with shooted and falling balls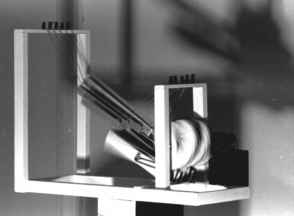 RATTLE-MACHINE: wooden sticks hit alluminium strips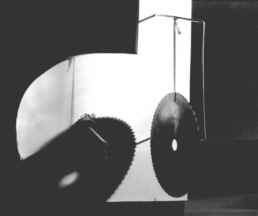 GONG: a sawing-blade is hit by a turning spring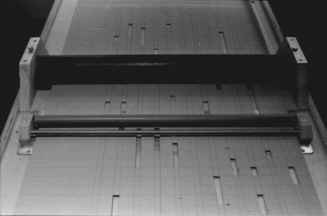 THE "BOOK": is playing a composition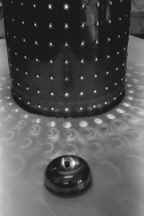 CENTRIFUGE: With accelerating speed a board with a centrifuge on top is turning around, meanwhile hitting a bell.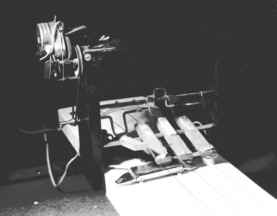 STRING-BOARD: 3 pianostrings are hit by little hammers. STRING-BOW: the strings are bowed by an electro-motor.





The COMBO was performed only once.
From 19-26 of july there was a concert every day in the MOZES & AARONKERK in Amsterdam.
Besides a fragment on the local radio that was all. After a year or two it was destroyed because of lack of room.
There is made a CD with recordings of the music.